Hi!
I'm a BUG!
(like duh… as if you can't figure that out…!)
(not just any BUG, mind you… NO… I'm a…)
<![if !vml]>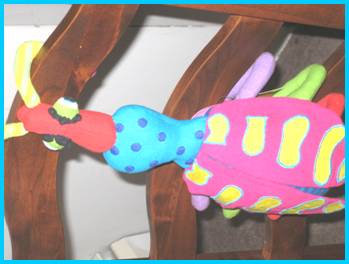 <![endif]>
FUNNYBUG!
As far as Bugs go, I'm really pretty nice… 
I'm friendly and cuddly (uh… for an insect, that is)
I know I'm kind of funny looking…
But some people say I'm charming…
I have a double thorax with stripes AND polkadots
(how many bugs can say that about themselves)
I have colorful, multi-jointed limbs and great big googoolly eyes (all the better to see you with)
Bushy eyebrows (truly unique for a bug!)
And little tiny wings…
Sometimes I think I look so funny, I make myself laugh!